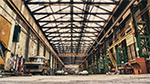 3 Cars is an opera composed by Luke Deane (1990) and carried out by a young, creative and very skilled team of musicians, theatre makers and film makers. 3 Cars is in essence about love. At the busy ferry terminals between Dover and Calais, where shady activities are met with inadequate countervailing measures, three cars are engaged in a brooding love story. A true opera requires that the story ends in death and other tragedies, and thus happens, but the audience will also reconsider the concept of value. In this opera, all parts are played by singing, steerable little cars, designed for this purpose by Milo Deane, student Design at Brunel University in London.
3 Cars will be performed by ensemble Lunatree, directed by conductor and percussionist Arnold Marinissen. Lunatree consists of eight musicians who work closely with composers to whom they can relate. The voices of the cars are from four master students at the Conservatorium in Amsterdam: soprano Björk Nielsdottir, soprano Perrine Gouarne, tenor Edward Leach and contratenor Angelo Marques da Silva Custodio.
Luke Dean on this project: I have had the pleasure of doing many exciting projects during my career as a composer, but 3 Cars is thematically by far the most universal and multidisciplinary project I've ever done. This ambitious opera will reach a large audience, this project of true art will cross borders and it most certainly will contribute to the Amsterdam community and its surroundings.