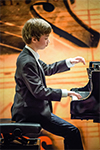 Thirteen year old pianist Youp Schyns received an honorable mention this year at the Dag van de Genomineerden of the Prinses Christina Concours for his performance of Mozart's 'Neun Variationen über ein Menuett von Duport', which he will again perform for you today.
Benjamin Farber has been playing the saxophone for one and a half year, but already he has won an Eerste prijs at the Nationale Finale of the Prinses Christina Concours 2015. It's hard to comprehend this boy is only 12 years old; looking sharp in a suit with a red bow tie, Benjamin is making magic with his alto saxophone, as if he has played all his life.
Omdat het een privé-locatie betreft, wordt het adres op de dag van het concert per sms bekendgemaakt.