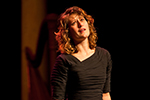 Grachtenfestival Amsterdam presents GrachtenfestivalPrijs as from 2007, and by now the cumulative winners represent an impressive list of young musicians, who perform in a whole range of concert halls worldwide. Mezzo-soprano Rosanne van Sandwijk won the coveted prize last year, and she gained the Artist in Residence of the 18th Grachtenfestival Amsterdam.
Jury chairman Biëlla Lutmer:"Rosanne stood above the material, close to herself and she has had an incredible personal development in the last year." With no less than four personally selected concerts our Rosanne in Residence will show why the won the GrachtenfestivalPrijs 2014: with her wonderful voice and daring choice of repertoire.

According to Muziekgezelschap Ludwig they have devoted themselves to remove the thresholds that have been laid in a circle around the classical music over the course of the last few decades. A delightful challenge for our Rosanne in Residence! Thee Zuiderkerk will be the scenery for a summer program, a musical expedition that will show her exotic qualities.
Ludwig is convinced that each and every audience will be moved by this music, which is exactly the reason why they were granted the 'Ovatie 2014'. This prestigious music award has been established by the Vereniging van Schouwburg- en Concertgebouwdirecties.