Nominees GrachtenfestivalPrijs 2020 announced
Soprano Channa Malkin, violinist Shin Sihan and pianist Daan Boertien are nominated for the highly coveted GrachtenfestivalPrijs 2020. The winner will be announced dring the Avond van de GrachtenfestivalPrijs on Friday night at the 14th of August.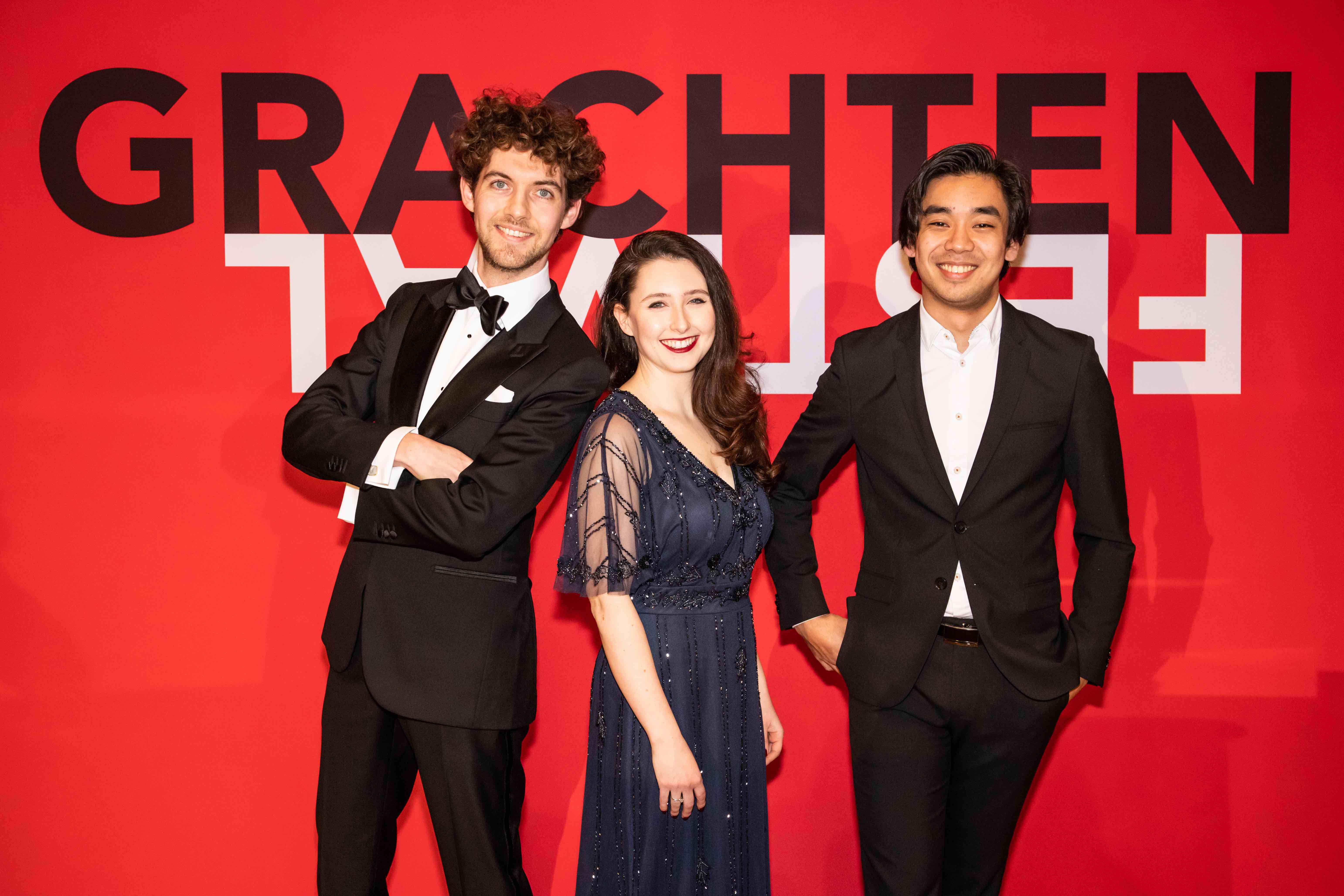 Nominees Daan Boertien, Channa Malkin and Shin Sihan © Melle Meivogel
Every year, the GrachtenfestivalPrijs is awarded to a young musician who excels in his or her field by exceptional musical talent. In the run-up to the ceremony, the nominees will be followed for six months by a jury consisting of experts from different angles. This year, the experts are Frederike Berntsen (critic Classical Music, Trouw), Aart-Jan van de Pol (director Nederlands Vioolconcours) and Marlon Titre (head of the Classical department, Royal Conservatory of The Hague, composer and guitarist).
Daan Boertien (1991) has won many prizes both at home and abroad, such as the Gustav Mahler-Wettbewerb, and together with Raoul Steffani (Artist in Residence 2019) the audience award for the Dutch Classical Talent in 2018. Daan specializes in song accompaniment and can be seen at home and abroad with various international singers.
Channa Malkin (1989) has played many important parts in the opera. On the concert stage, Channa has worked with the Royal Concertgebouw Orchestra conducted by Mariss Jansons. Channa wants opera to reach a wider audience and therefore has set up the multimedia production Händel goes Tinder, in collaboration with violinist Anastasia Kozlova and writer/director Michael Diederich.
Shin Sihan (1994) has won several important prizes, including the second and audience prize for the Oscar Back violin competition and the Dutch Classical Talent Award. Shin also shared the stage with renowned Dutch orchestras such as the Residentie Orkest and the Gelders Orkest. In addition, Shin is a versatile chamber musician. Since 2017, he forms the Amsterdam Piano Trio with Yang Yang Cai and Alexander Warenberg.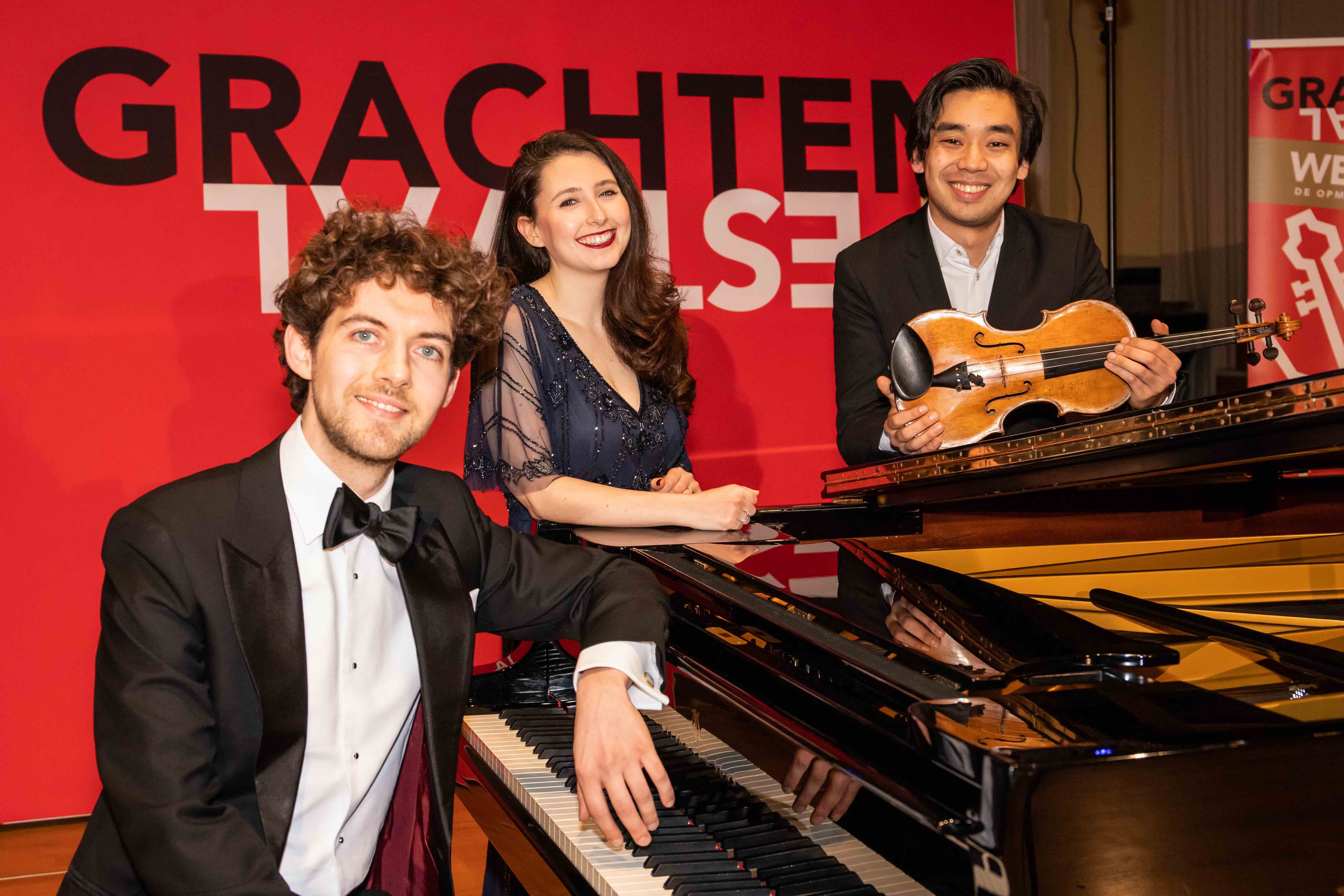 Nominees Daan Boertien, Channa Malkin and Shin Sihan © Melle Meivogel
Previously, the prize was won by Emmy Storms (2019, violin), Raoul Steffani (2018, baritone), Ella van Paucke (2017 cello), Sophiko Simsive (2016, piano), Matthieu van Bellen (2015, violin), Rosanne van Sandwijk (2014, mezzo-soprano), Remy van Kesteren (2013, harp), Duo Sax & Stix (2012, saxophone and percussion), Karin Strobos (2011, mezzo-soprano) and Judith van Wanroij (2010, soprano).
Remy van Kesteren, first Artist in Residence in 2014, about the prize: "The opportunity to get a residency during the festival was a great privilege. In 2014, I was able to enjoy myself and go my own, musical way; it is very valuable that such a leading festival offers space for innovation and gives ample space to the musicians of today and the future".
The GrachtenfestivalPrijs fits in with the Grachtenfestival's mission to present young, talented, classical musicians to a wide range of music. Young talents are often invited to play for several years, getting a stage that matches their career stage. The Grachtenfestival challenges them to go off the beaten track and supports them in this. A nomination for the GrachtenfestivalPrijs is an important boost for the careers of young, classical musicians. The GrachtenfestivalPrijs was created when the festival celebrated its 10th anniversary, in 2007.