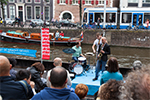 The Maarten Hogenhuis Trio, with alto saxophonist Maarten Hogenhuis, percussionist Joan Terol Amigó and double bass Thomas Rolff, will be on a more 'strategic' location that is part of the Stelling van Amsterdam. The historical Fort Diemerdam boasts the beautifully restored house of the former fort holder, (ammunition-)bunker en cavaliers.
The music trio will play creations of the alto saxophonist as well as work from the repertoire of the American Songbook. With special attention to the compositions by Duke Ellington, such as parts from The Queen's Suite (1959), that Ellington has written for Her Majesty Elizabeth II.
'Technical skills are no longer a distinctive quality of musicians, but Maarten Hogenhuis handles his alto saxophone like nobody's business! And he uses every means of expression that his instrument can give.'
Het Parool, Jan Jasper Tamboer.
Met dank aan BNG Cultuurfonds - Gemeente Amsterdam - Gemeente Diemen - Provincie Noord-Holland - Stichting Zabawas