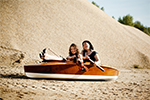 The two members of Magma Duo were laureates for the Dutch Classical Talent 2014-15, a course for the young classical talent of The Netherlands. In this program, the laureates are coached and get to develop their talent and skills, and do a tour along eleven concert halls in Holland.
For this tour the Magma Duo, consisting of violinist Emmy Storms and pianist Cynthia Liem, created a program with works by lesser-known and unknown composers from the past century. They want to introduce the audience to 'sparkling, enchanting, compelling and surprising music that exists outside the well-trodden paths of the standard classical repertoire'.
The concert will take place at the new Vondel CS, that previously housed the Filmmuseum, now a recently opened hot spot in media, culture and opinion, in the Amsterdam Vondelpark.