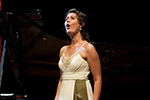 Grachtenfestival Amsterdam has been awarding the GrachtenfestivalPrijs since 2007 and by now, the winners of this prize form an impressive list of young musicians performing regularly on all the international concert stages. Mezzo soprano Rosanne van Sandwijk was last year's winner of the prize, which made her Artist in Residence of the 18th edition of Grachtenfestival Amsterdam.
Jury Chairman Biëlla Lutmer: 'Rosanne was in total control, remaining close to herself and we've seen her make tremendous progress last year.'
With no less than four concerts that she herself put together our 'Rosanne in Residence' showcases exactly what made her win the GrachtenfestivalPrijs 2014: her fabulous singing and adventurous choice of repertoire.
One of the mezzo soprano's heartfelt desires was to program an extraordinary performance of Schubert's 'Winterreise', originally written for tenor. A lonely Expedition by a young man, created around 1828, based on 24 poems by the lyric German poet Wilhelm Müller. It's a awe-inspiring description of a gruesome trip, ending in death.
Rosanne dove into the history of this world famous song cycle and her aim is to return to the very essence of it all. In the richly decorated Blauwe Kamer of Museum Geelvinck you will hear a 'Winterreise', with the accompaniment of an authentic Böhm fortepiano.